Email Marketing Success Story – Scott McDonald, Rocky Mountain Soap
If you follow our blog you'll know that we've been doing a series of "Social Media Success Stories" and while Rocky Mountain Soap Victoria certainly fits into that category, they also have an excellent email marketing program and that's what we talked to Scott McDonald about today.
I first met Scott and Kazuyo at the Organic Islands Festival. I was doing some live blogging and they were only too happy to talk about what Rocky Mountain Soap was doing to make natural handmade soap products. I quickly learned that Scott was a huge fan of social media and was ready to tackle email marketing. (Disclosure: Rocky Mountain Soap Victoria is a bWEST client.)
Chris: What attracted you to email as a marketing tactic?
Scott: Well, we had this big list of email addresses in our database from our Rewards Program, and while our head office was using it, we thought that we might be able to connect with our customers in a more structured and effective way – it certainly is easier than telephoning customers, faster and less intrusive, and it was an under utilised resource. It also meshed well with our social media efforts to reach out to the community as a whole.
Chris: How has using email marketing affected your business?
Scott: We recently had a Christmas Open House – we sent an invite and a follow up reminder. We more than doubled our RSVP's over the year before, along with the help of Facebook and Twitter. More importantly, we can have an ongoing dialogue with our customer base in a non-intrusive manner – letting them know about in-store events, programs and activities, as well as put a spot-light on certain items such as new products or seasonal items. Our "recipe of the month" program has done wonders – it engages the customer so that they might try something that the instore experience would not necessarily have exposed them to.
Chris: Do you have a particular success story you could share?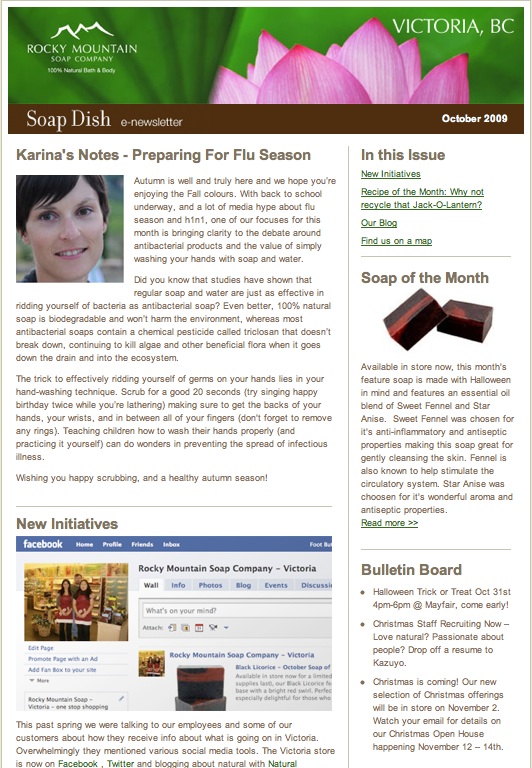 Scott:
Good question, where do we start? We used to have a company-wide newsletter that was distributed to all customers from our head office. It was a great little screed, but more and more our customers in Victoria and area wanted something that was more immediately relevant to them, with more local content. The company is thankfully forward thinking and readily agreed after some initial hand-ringing, which was understandable at the time.
On any given day, our repeat customer percentage was about 35% – but with more local content and engagement, we have seen that rise to over 50%, with cooresponding sales increases attached. Overall we are very pleased with the response.
Chris: How are you integrating email with your other marketing tactics?
Scott: First of all, our newsletter goes out once a month. So, we have links to our blog, facebook fan page and twitter accounts prominently displayed and easily accessible. We have some cross-pollination but the key is really content that is relevant to our customer. For example, while our newsletter announced our Christmas line, our Facebook pages fleshed that out and twitter updated in real time what was going on, how the line was being received.
Chris: Has anything surprised you about email marketing?
Scott: Two things have given us pause, one was how easy it was to implement. We had visions of this taking hours and hours each month. While the first letter did take a number of days and probably 10 hours to get together, the second took a mere 2 hours and that was with us populating the template. The second was that the 'open rate' was not as high as we expected. That being said, we at least know the stats and can implement strategies to correct any deficiences.
Chris: What have you found to be the most important aspect in developing a successful email campaign?
Scott: Don't do it yourself, get some professional help to assist in the initial implementation, design and strategy – then if you wish, you can take on the role yourself. One of the top comments that we get is how nice the email campaigns have been. Second, make sure you can get statistical feedback, who is opening, how many people are viewing, what links are they clicking etc. Without this kind of feedback, you can't address problems or improve your delivery.
Chris: What's next for Rocky Mountain Soap Victoria in terms of email and online marketing?
Scott:
We are going to further hone our newsletter to include more local content and even polls. We will define our blog more and get switched over to WordPress – with qualified help – this isn't a do-it-yourself project. We may pride ourselves in understanding the retail side of our business, but we are not marketing experts – it took us a while to understand that. The successess of social media in the past six months, with respect to our business, have galvanised that attitude.
Thanks for taking the time to speak with us Scott. Congratulations on your success and best wishes for more of the same.
Scott can be found on Twitter as @FootButterGuy
If you would like to propose a company to be featured in our "Success Stories" please contact me or leave a comment below.